TRUCK CONGESTION AT MALABA BORDER REDUCES TO 2500
UGANDA COMMITS TO CLEAR TRUCKS BACKLOG BY WEDNESDAY
Monday, 24th January 2022, Malaba, Uganda: Speaking at theEABC-TMEA public-private dialogue at Malaba One-Stop Border Post (OSBP),Mr.Abel Kagumire Commissioner of Customs Uganda Revenue Authority assured the East African Business Council (EABC) that the backlog of trucks at Malaba OSBP will be cleared and normalcy will return by Wednesday 26th January 2022.
He stated that the backlog of 4000 trucks has been reduced to 2500 trucks and the traffic queue has been reduced from 40KM to 25KMs following the implementation of the resolutions for the bilateral meeting between the Ministers of Works and Transport of the Republics of Uganda and Kenya held on Saturday 22nd January 2022.
Mr. John Bosco Kalisa, EABC CEO said "In future solution to NTBs should be derived without waiting for Ministerial and Head of State decisions" He called for the formation of Responsive Border Committee to quickly resolve future trade bottlenecks and NTBs to reduce the cost of doing cross border trade.
He called for a borderless East Africa for free flow of cargo. He further urged for closer collaboration among transporters, importers, exporters, cross-border traders, customs, immigration and other trade facilitation agencies on both sides of Uganda and Kenya.
Mr. Matia Etedu from the Ministry of EAC Affairs Uganda appreciated and called more public private dialogue to facilitate cross border trade in region and beyond as the EAC bloc will soon commence trading under African Continental Free Trade Area.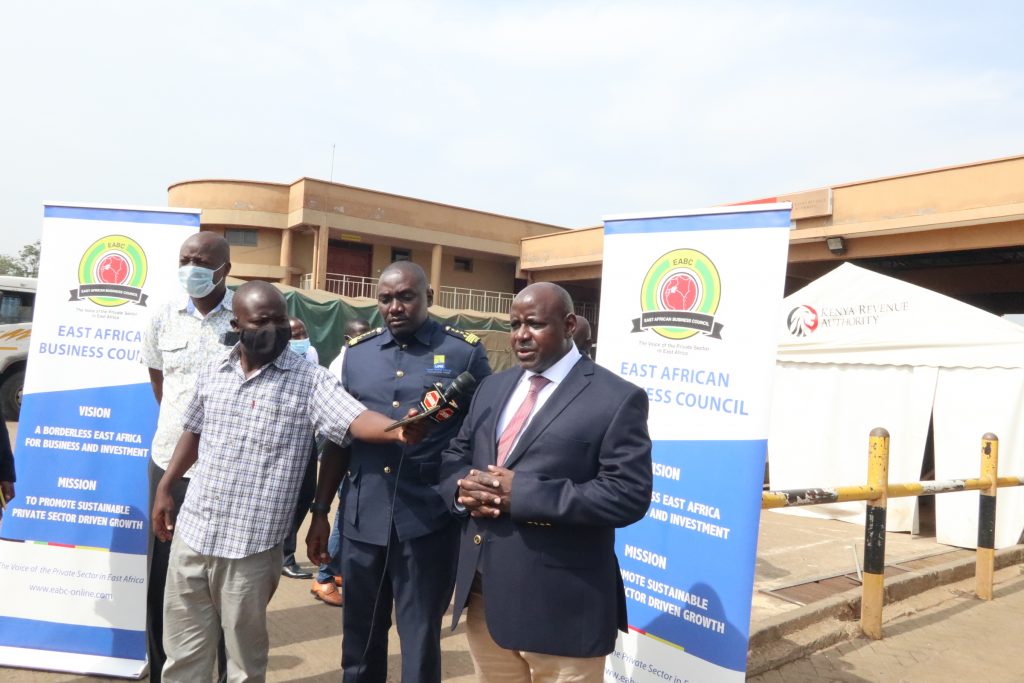 Mr. Charles Omusana, Principal Economist (Investment & Private Sector Promotion), EAC Secretariat urged for a regional coordinated approach and innovative solutions to tackle Non-Tariff Barriers amid the pandemic for quick economic recovery and growth.
"80% of cargo destined to Uganda, Rwanda, Burundi, Democratic Republic of Congo and South Sudan from the Port of Mombasa pass via the Malaba OSBP," said John Changole, Manager of Customs Kenya Revenue Authority Malaba OSBP Kenya.
On average the Malaba OSBP clears 1500 trucks per day.
Amwanga Dinah, Chairperson of Malaba Cross Border Traders Cooperative Society Kenya said lack of structured policy engagement between women cross border traders and border agencies, low level of knowledge on customs procedures, police harassment and un-harmonized COVDI-19 measures are among challenges facing women cross border traders.
On her part, Chairperson Melisa Omuma of Malaba Women Cross Border Traders Cooperative Uganda said that lack of a market facility, narrow pedestrian passages at the border, corruption on accessing the EAC Simplified Trade Regime also hinder women to trade.
Mr. Simon Omondi of Kenya Transport Association stated that inadequate parking area and incomplete and narrow road causes delay in scanning of goods a process taking up to 10-15 minutes.
Chairperson Kennedy Osiya of Kenya International Freight and Warehousing Association (KIFWA) stated that there are no police deployed to protect drivers and cargo despite the long queue of trucks and appealed for a vaccination station for drivers to be set up at the border.
Leaders of Clearing & Forwarding Associations called for exemption of customs rent for importation of bulk products exceeding 21 days at the port of Mombasa.
Mr. Juma Wakhungu urged the women cross border traders to always report all corruption matters to the Manager of OSBP for quick resolution and to participate in the Joint Border Committee Meetings.
Regional Coordinator in Charge of Kenya Revenue Authority Western Part of Kenya, Ms. Pamela Hago said, the Government of Kenya is committed to implement the World Trade Organization Trade Facilitation Agreement and have engaged the Kenya National Highway Authority to quickly finalize the road to the scanner at the OSBP to hasten movement of cargo.
Mr. Martin Makokha of Kenya Bureau Of Standards (KEBS) urged the traders to utilize the online catalogue of East African Harmonized Standards to avoid standards related barriers to trade.
Mr. Stanley Elongi elaborated on the role of Kenya Plant Health Inspectorate Service (KEPHIS) and noted that fees and charges related to plants import and exportation in the EAC should be harmonized.
Mr. Emile Sinzumusi of Northern Corridor Transit and Transport Corridor Authority called for a green channel for Authorized Economic Operators, pre-arrival processing of cargo, interlinkage of northern and central corridor to reduce congestion at the borders.
In his closing remarks, Mr. Kalisa, EABC CEO called for special trade information desk for women small scale traders, Mutual Recognition of COVID-19 test and vaccine certificate via the EAC Pass, use of Regional Electronic Cargo and Truck Drivers Systems (RECDTS) and Regular holding of joint border management committee meeting at the borders.
The EABC-TMEA public-private dialogue at Malaba OSBP attracted over 65 delegates composed of trade facilitation agencies, importers, exporters, transporters and women cross border traders.