Monday, 2nd August 2021, Arusha, Tanzania: The East African Business Council (EABC) has today signed a Memorandum of Understanding (MOU) with the MS Training Centre for Development Cooperation (MS TCDC), set to scale up business opportunities for youths in the region.
In his remarks during the signing ceremony, EABC CEO said," the growing population, skills and knowledge of the youth is a great asset for the economic transformation of the EAC region and the continent especially now with developments such as the African Continental Free Trade Area (AfCFTA), digitalization and e-commerce."
The partnership is set to see the two institutions organize and facilitate events, seeking to address policy and regulatory challenges hindering youths from investing in the region.
On her part, Ms. Makena Mwobobia, Executive Director of MSTCDC said, "this MoU shall boost youths' participation in the policy decision-making process at the EAC level and push a conducive environment for businesses plus amply active participation of youth in cross border and intra –Africa trade."
The agreement also commits to creating platforms to sensitize youths on developing issues, limiting them from accessing markets, thus curtailing the growth of their businesses: This, as well as create networking opportunities for increased business collaboration.
EABC CEO Mr. John Bosco Kalisa lauded MS TCDC for establishing the ´Youth in Business, Trade and Enterprise´ initiative that has played a key role in advancing the participation of youth in business and increased access to economic opportunities.
"EABC and MS-TCDC have agreed on establishing a Youth Business Advisory Desk, which will strive to promptly resolve issues inhibiting youths from scaling up their businesses," Mr. Kalisa said.
The agreement also outlines that the youths will benefit from training aimed at building their capacity building to address skill gaps in the market.
"EABC is keen on supporting and facilitating initiatives that will recognize and empower cross-border trade and innovation among youth in business," Mr. Kalisa added.
The move is a positive step towards increasing intra-regional trade which stands at below 20% and comes at a time when the region is grappling to recover from the effects of Covid-19.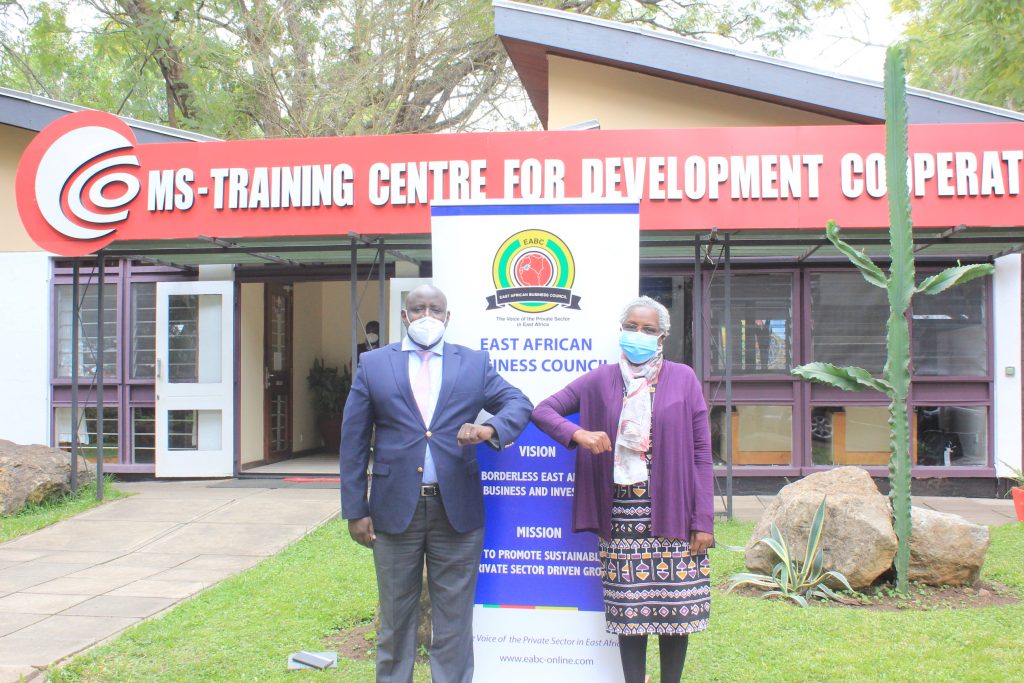 "EABC is keen on conducting in-depth studies on various sectors to provide factual policy reports and conduct research-based advocacy to assist youth to make informed choices, "Mr. Kalisa added.
The agreement will also see the institutions endeavor to recruit and retain youths in business as part of the EAC SMEs Platform.
Issued by:
Mr. John Bosco Kalisa Executive Director /Chief Executive Officer
East African Business Council (EABC)
9th Floor Mafao House | Old Moshi Road | Arusha | Tanzania
P. O. Box 2617 | Tel: +255 27 2520162
Email: admin@eabc-online.com I Website: eabc.info
EABC – The Voice of the Private Sector in East Africa
About East African Business Council: The East African Business Council (EABC) is the regional apex body of private sector associations and Corporates from the 6 East African countries. It was established in 1997 to foster the interests of the private sector in the integration process of the East African Community. EABC vision is a borderless East Africa for business and investment. The primary mission is to promote sustainable private sector-driven growth in the EAC.