EAC CROSS-BORDER TRADERS SET TO BENEFIT FROM TRADE HOTLINE TO REGISTER CHALLENGES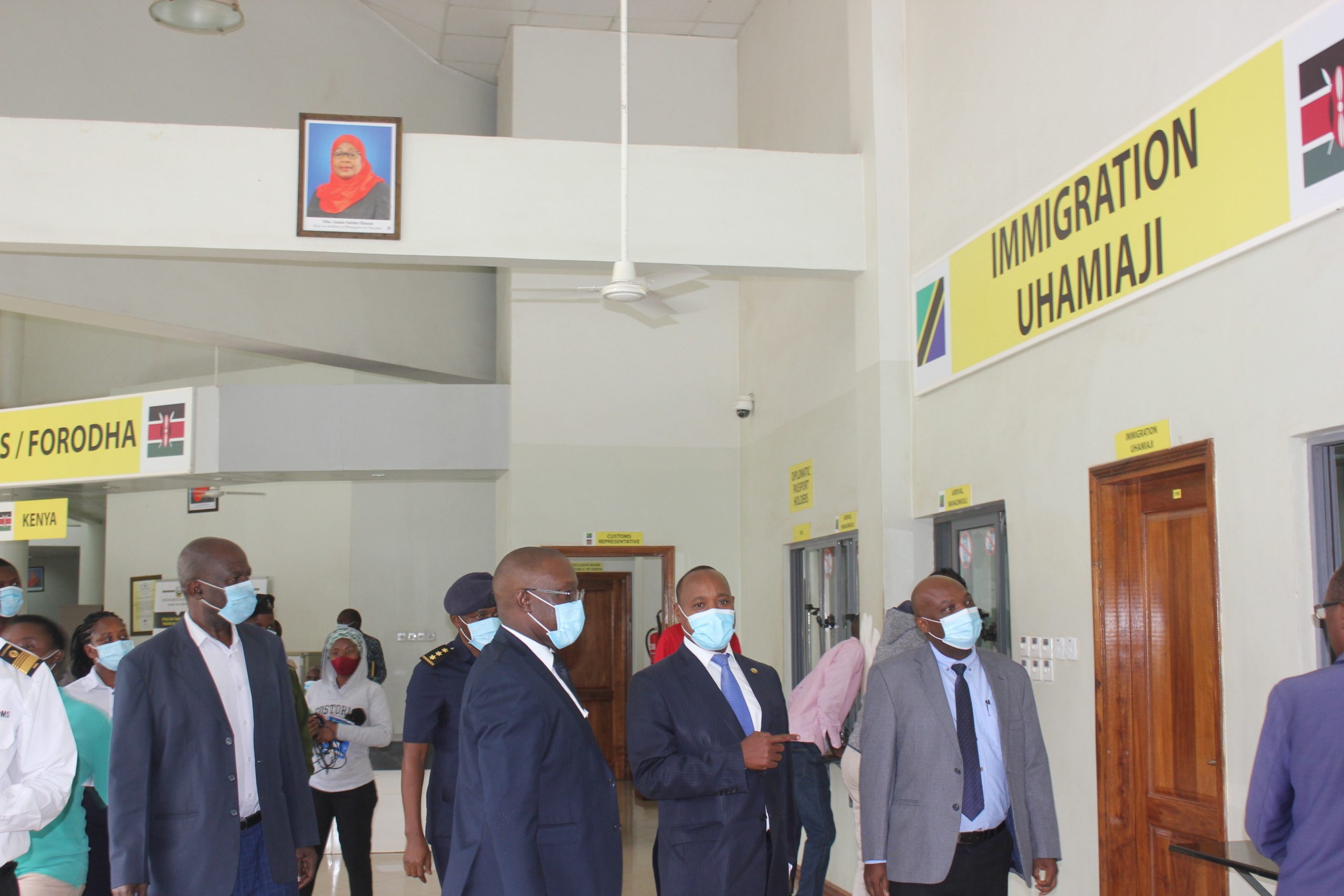 Wednesday, 12th May 2021, Arusha, Tanzania: The EAC Secretary General, Dr. Peter Mutuku Mathuki, has revealed that the EAC Secretariat is set to avail a trade hotline providing cross-border traders with a platform to register their challenges and get prompt feedback, across all EAC border posts.
This, in a move set to resolve persistent Non-Tariff Barriers (NTBs) and reduce time spent in the movement of goods and persons, hence increasing intra EAC trade, which currently stands at 15%.
Dr. Mathuki, hit the ground running, as he officially made his first maiden visit at the Namanga One Stop Border Post (OSBP), meeting Trade Facilitation Agencies (TFAs) and cross border traders to deliberate on sustainable solutions to ease cross border trade.
"The hotline will enable us to register persistent trade barriers, provide feedback and make follow ups," said Dr. Mathuki.
The East African Business Council facilitating the Public Private Dialogue (PPD), affirmed that the movement of goods and persons at the Namanga One Stop Border Post (OSBP) and truck traffic impasse has cleared following the directive by the President of the Republic of Kenya, H.E Uhuru Kenyatta during the recent visit by H.E Samia Suluhu, President of the United Republic of Tanzania.
The meeting providing a platform for cross border traders, Trade Facilitation Agencies, EABC and the EAC Secretariat to discuss sustainable solutions to boost bilateral and regional cross-border trade saw the traders urge for the harmonization of standards for the most traded goods in the region.
EABC is calling for the harmonization of taxes and charges across the region, reduction of weigh bridge costs and punitive fines imposed across borders.
Speaking at the forum, Tanzania Revenue Authority (TRA) Namanga OSBP Manager, Paul Kamkulu stated that in the year 2019/2020, Tanzania imports from Kenya stood at approximately USD 138.79 Million while exports to Kenya stood at approximately USD 124.33 Million. In the year 2020/2021, Tanzania imports from Kenya stood at approximately. USD 131.44 Million while exports to Kenya stood at approximately USD 170.40 Million
Kenya Revenue Authority (KRA) Namanga Station Manager, Joseph Moywaywa, noted that amid the pandemic, Kenya's top exports to Tanzania include detergent, tiles, auto-motives and solar panels, whilst Tanzania's top exports to Kenya include fresh vegetables, alcoholic drinks and fertilizer.
Tanzania Ambassador to Kenya, H.E. Amb. Dr John Stephen Simbachawene who joined the EAC Secretariat delegation reiterated the commitment of the Tanzania Government in deepening relations to resolve trade barriers disrupting trade.
The Secretary General, who has been in office for less than a fortnight, was lauded for being the first Secretary General to hold a Public Private Dialogue with traders and facilitation agencies at the Namanga OSBP, in a move creating optimism on fast-tracking pending trade and policy issues.
—
Issued by:
East African Business Council (EABC)
9th Floor Mafao House | Old Moshi Road | Arusha | Tanzania
P. O. Box 2617 | Tel: +255 27 2520162
Email: admin@eabc-online.com I Website: eabc.info
EABC – The Voice of the Private Sector in East Africa
About East African Business Council: The East African Business Council (EABC) is the regional apex body of private sector associations and Corporates from the 6 East African countries. It was established in 1997 to foster the interests of the private sector in the integration process of the East African Community. EABC vision is a borderless East Africa for business and investment. The primary mission is to promote sustainable private sector-driven growth in the EAC.