Speaking at the EAC Public-Private Dialogue on Fruits & Vegetables held in Arusha, Tanzania the Chief Guest, Hon. Christophe Bazivamo, Deputy Secretary General of EAC said" EAC Secretariat has developed a comprehensive Fruits and Vegetables Value Chain Strategy and Action Plan 2021-2031 set to boost intra EAC trade of fruits and vegetables to USD.25 million and global exports to USD.1.3 billion by 2031"
He elaborated that the intra-EAC trade of fruits and vegetables is currently at 9.9million.
He urged more investments in the nutritional and medicinal indigenous fruits and vegetable sector.
The EAC fruits and vegetable strategy aims to improve production capacity, strengthen R&D, innovation, packaging, market access and trade facilitation, quality infrastructure, skills, policy coordination and framework.
The strategy is geared to boost the EAC bloc global exports of vegetables to USD.950 million and fruits to USD.350million by 2031 from the current USD.416 million and USD.125 million respectively.
On his part, Mr. John Bosco Kalisa said the Fruits and Vegetables sector contributes between 20% and 36% to the Gross Domestic Product (GDP) of EAC economies.
He urged EAC Partner State to liberalize air cargo flights in the EAC to enhance the consolidation of horticulture exports. He stated EABC is committed to hosting and supporting the EAC Fruits and Vegetable Platform on policy advocacy components such as address Non-Tariff Barriers and regulations & costs that reduce the export competitiveness fruits and vegetable sector in the region.
He urged the EAC Secretariat to fast-track the development of the SPS bill and regulations and reduce post-harvest losses.
Mr. Bernd Schmidt, Deputy Programme Manager, Support to East African Market Driven and People-Centered Integration (SEAMPEC) said GIZ supported the EAC Secretariat to formulate the Fruits and Vegetables Value Chain Strategy and Action Plan 2021-2031 and reiterated GIZ partnership with EAC in the upcoming 2nd phase of SEAMPEC programme.
Hon Christophe Bazivamo Deputy Secretary General of EAC and Mr. John Bosco Kalisa and Dr.Irene Musebe Deputy Director, Ministry of EAC &Regional Development –Kenya accompanied by fruits and vegetable industry champion officially launch the terms of reference of the Regional Fruits and Vegetable platform.
Despite the potential, the regional Fruits & Vegetable sector production is fragmented, smallholder dominated, and with low yield and productivity.  Other challenges include climate change variability, diseases and pests, supply chain seasonality, limited business development services, limited quality infrastructure, limited processing technologies for value addition, high post-harvest losses, and underdeveloped logistical infrastructure among others.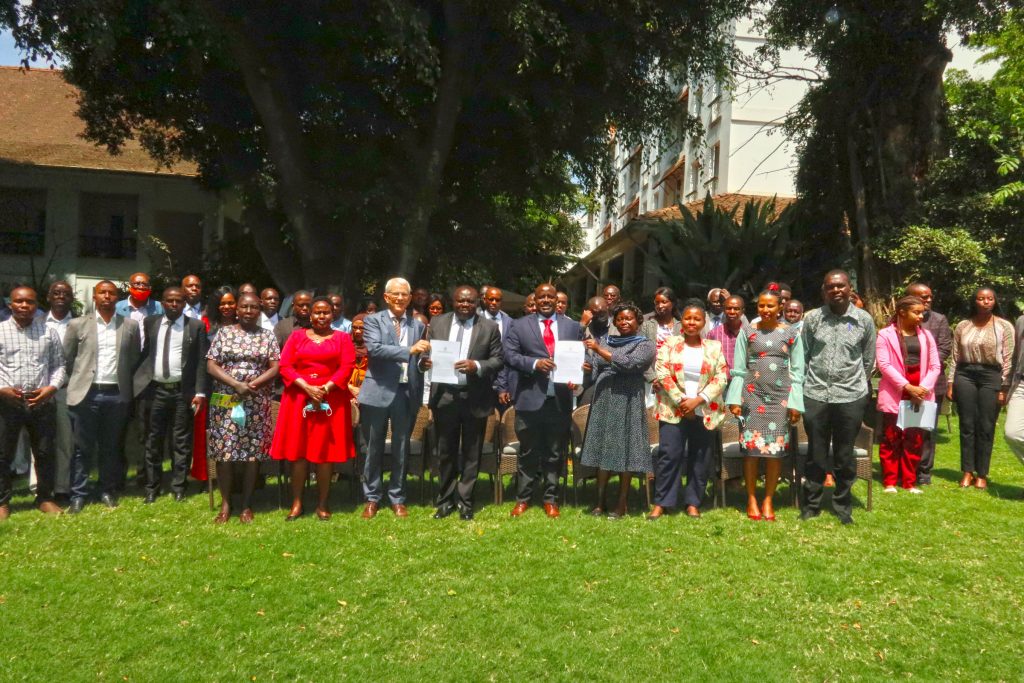 The EAC Public-Private Dialogue on Fruits & Vegetables convened over 60 delegates from the Ministry of Industry, Trade, Agriculture, Standard Bureaus and Industry Champions in the fruits and vegetable value chain from Burundi, Kenya, Uganda, Rwanda, South Sudan, Tanzania and Uganda