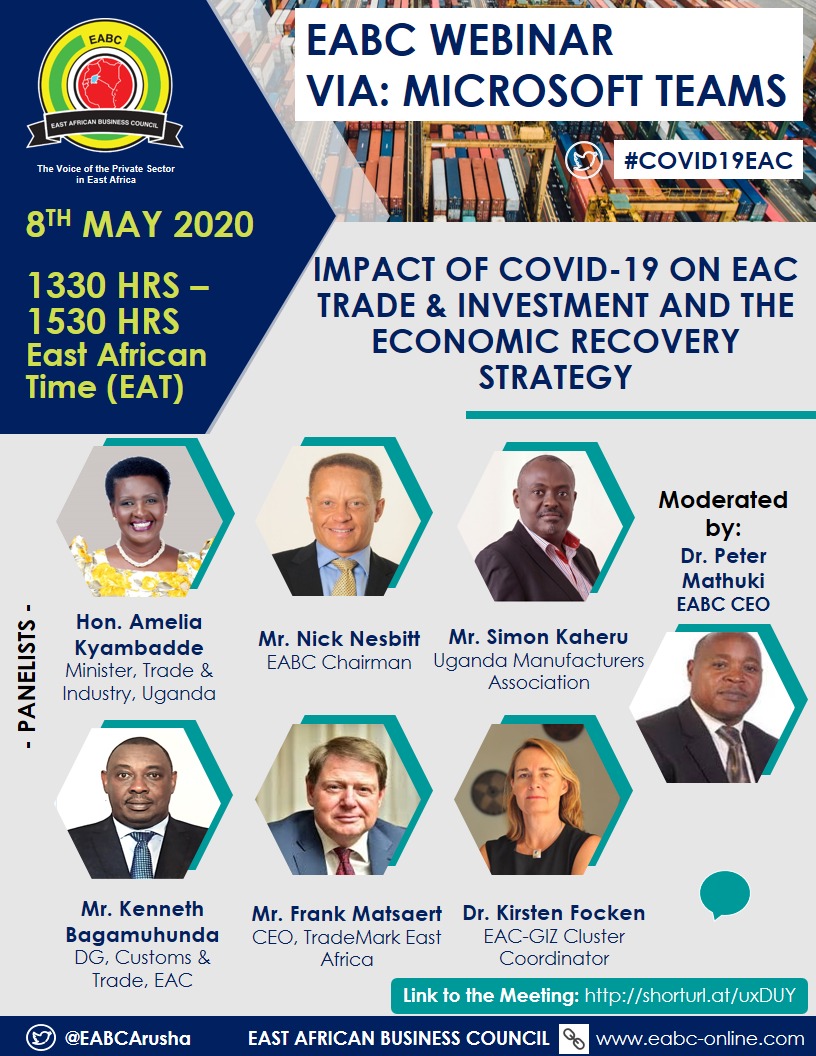 The East African Business Council is pleased to invite you to participate in the online meeting on the Impact of COVID-19 on EAC Trade and Investment on Friday 8th May 2020 at 13:30hrs -15:30hrs EAT via Microsoft teams. Link to join the meeting is http://shorturl.at/uxDUY
Panellists
Hon. Amelia Kyambadde, Minister, Trade, Industry and Cooperatives, Uganda
Mr. Nick Nesbitt, Chairman East African Business Council
Mr. Simon Kaheru, from Uganda Manufacturers Association
Mr. Kenneth Bagamuhunda, Director General, Customs & Trade, East African Community
Mr. Frank Matsaert CEO, TradeMark East Africa
Dr. Focken Kirsten, EAC-GIZ Cluster Coordinator
Moderator
Dr. Peter Mathuki, EABC CEO/ Executive Director
During the discussions, there will round of questions to the panelists, followed by a Question & Answer session from the e-floor and ending with a 1-minute conclusion from panellists.
If you have any questions you would like to see answered by the panellists, you are welcome to reply directly to Email: director@eabc-online.com with a copy to admin@eabc-online.com
The Twitter Hashtag: #COVID19EAC @EABCArusha
How to Join
Please join this meeting at Friday 8th May 2020 at 13:30hrs -15:30hrs EAT by clicking http://shorturl.at/uxDUY
If using your cell phone, please download Microsoft Teams app via Android or IOS, and sign up for free.
For those with Microsoft accounts, the link will open into Teams. If using other email domains (yahoo, google, Hotmail etc) the link will open in a web browser (https://teams.microsoft.com/) where you will be provided with two options (i) Download the windows app or (ii) Join on the web instead). We recommend you choose Join on the web instead).