I am pleased to congratulate the 21st Ordinary Summit of EAC Heads of State for their commitment to the regional integration agenda and issuing key directives and resolutions geared to boost intra-EAC trade and investments.
The East African business community congratulates, appreciates and welcomes the directive of the EAC Heads of State of appointing Dr. Peter Mutuku Mathuki, as the incoming Secretary-General of the East African Community effective 25th of April 2021. This, ushering a new era of hope, opportunities for trade, economic resilience and prosperity in East Africa amid the COVID-19 pandemic.
Dr. Peter Mathuki as EABC CEO has been instrumental in implementing the turn-around strategy of the East African Business Council under the vision of a borderless East Africa for increased business and investment. The strategy steered EABC to an advantageous position in our advocacy role as the voice of the private sector in the region.
His diplomatic leadership improved recognition of the role of the private sector in the EAC from Observer Status to a True Partner of the EAC regional integration agenda.
He rebranded EABC Secretariat corporate image with new offices closer to the EAC Secretariat and boosted its public image. He spearheaded, sustained and renewed energy, synergy and relationships between National Focal Points and EABC through closer engagements.
At the EABC Secretariat, he successfully set up of sector-specific desks with experts to respond to the needs of Trade in Services, Manufacturing, Agriculture, Energy, Infrastructure & SMEs and also Women in Business. He rolled out membership engagements by introducing Elite Membership categories and holding EABC CEO Round Table meetings in all EAC Partner States to understand issues affecting companies as they do business across EAC borders. This has enabled EABC Secretariat policy advocacy to be informed by the needs of members and increased membership retention to 100%.
At the policy engagement level, he organized EABC High-Level courtesy visits to the EAC Heads of State who committed to champion an inter-governmental trade dispute mechanism, to eliminate persistent Non-Tariff Barriers in the EAC region. He articulated the private sector's role as the engine for socio-economic growth in the region, during the EAC Strategic Retreat held on 29th March 2019 at the Kigali Convention Centre and chaired by H.E. Paul Kagame, President of the Republic of Rwanda that resolved to convene a dedicated session of the EAC Council of Ministers and private sector to inform the Summit of EAC Heads of State. This high-level dialogue mechanism enables EABC to put forward cross-border trade and investment bottlenecks affecting the business community, for deliberation and quick solutions by the EAC Council of Ministers and Heads of State.
He has spearheaded many international, continental and regional high-level public-private dialogues aimed at resolving bottlenecks hindering the growth of intra-EAC trade and investment. These include the EABC High-Level East African Business and Investment held in Arusha,2019; s visitto One-Stop Border Posts and Public-Private Dialogues (PPD) with Trade Facilitation Agencies at the Borders to resolve emerging Non-Tariff Barriers; PPD on Customs and Domestic Taxes, Transport and Logistics and Standards and the African Continental Free Trade Area (AfCFTA).
He improved private sector collaboration with Academia to drive innovative and market demand-driven ICT solutions for businesses. He spearheaded strategies for youth inclusive business, trade and enterprise policies in the East African Community and the African Continental Free Trade Area.
From the onset of the COVID-19 pandemic which has disrupted global and regional value chains, he has been vital in pushing for business and economic resilience of the EAC bloc amid the COVID-19 pandemic by urging for an EAC coordinated approach on COVID-19. He successfully urged the EAC Council of Ministers to allow free movement of cargo amid the pandemic, called for fiscal incentives to cushion East African businesses from the impact of COVID-19 and resumption of air transport services in the EAC region. He spearheaded EABC research including COVID-19 impact assessment studies on business sectors, proposed recovery strategies and resolved COVID-19 related NTBs at border points.
He has taken part in continental and international negotiations where he successfully pushed for the formation of the African Business Council, oversees studies on the African Continental Free Trade Area (AfCFTA) geared to reposition the EAC bloc to reap the benefits availed by the continental market.
His excellent resource mobilization and fundraising skills has brought on board new development partners and projects to EABC, including TradeMark East Africa (TMEA), German Development Cooperation – GIZ, Federation of German Industries (BDI), Creating Perspectives Project, International Trade Centre (ITC), IFC-World Bank Group, Bill and Melinda Gates Foundation and the Economic Research Consortium.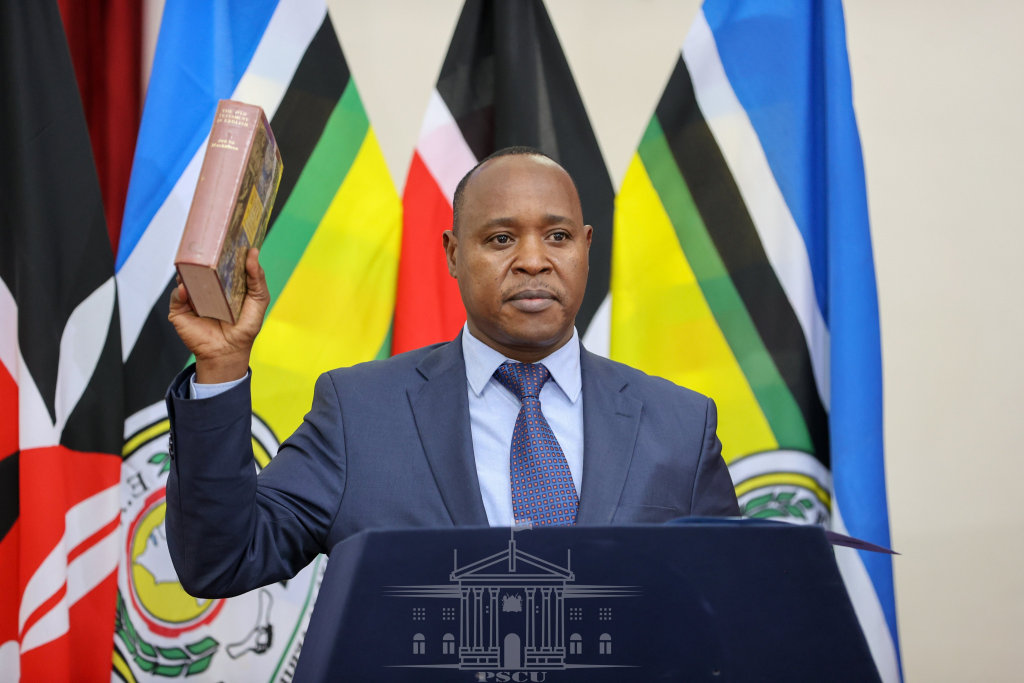 Indeed, this new era brings renewed Partnership between the Public and Private Sectors to institute more reforms towards improving the ease of doing business.
I welcome you to join and support his vision of steering intra-EAC trade to greater heights in his new role as the Secretary-General of the East African Community.
As EABC, we shall lead a strategic private sector dialogue to come up with priorities and expectations from the incoming EAC Secretary-General.
Once again, we salute the Summit of EAC Heads of State and look forward to the expedited implementation of decisions to increase Intra -EAC trade and investments.