Tuesday, 13th July 2021, Arusha Tanzania: The East African Business Council will continue pushing for prompt resolution of Non-Tariff Barriers and market access for Ugandan goods in the region, new EABC CEO Mr. John Bosco Kalisa has said.
Speaking when he paid a courtesy visit to Private Sector Foundation Uganda (PSFU) Acting Executive Director, Mr. Francis Kisirinya, Mr. Kalisa committed to steering the advocacy role of EABC to reduce trade barriers and thus create a conducive environment for business.
He appealed to PSFU to support the regional private sector agenda at EABC by offering constant advice on how best to champion the interests of the private sector in one strong voice.
"Business cannot thrive in isolation. We need to deepen collaborations and strengthen partnerships in order to access the larger EAC market," he added
On his part, Mr. Kisirinya affirmed his deep support to EABC and called for more engagements in moments of uncertainty, like in the current COVID-19 pandemic,
"The EAC region should work more closely both at the public and private sector levels for economic rebound and growth," he noted.
During the discussions, Mr. Kalisa relayed his deep condolences to PSFU following the death of former Executive Director, Mr. Gideon Badagawa, whom he described as his mentor and a person who was very passionate about private sector growth in Uganda and East Africa.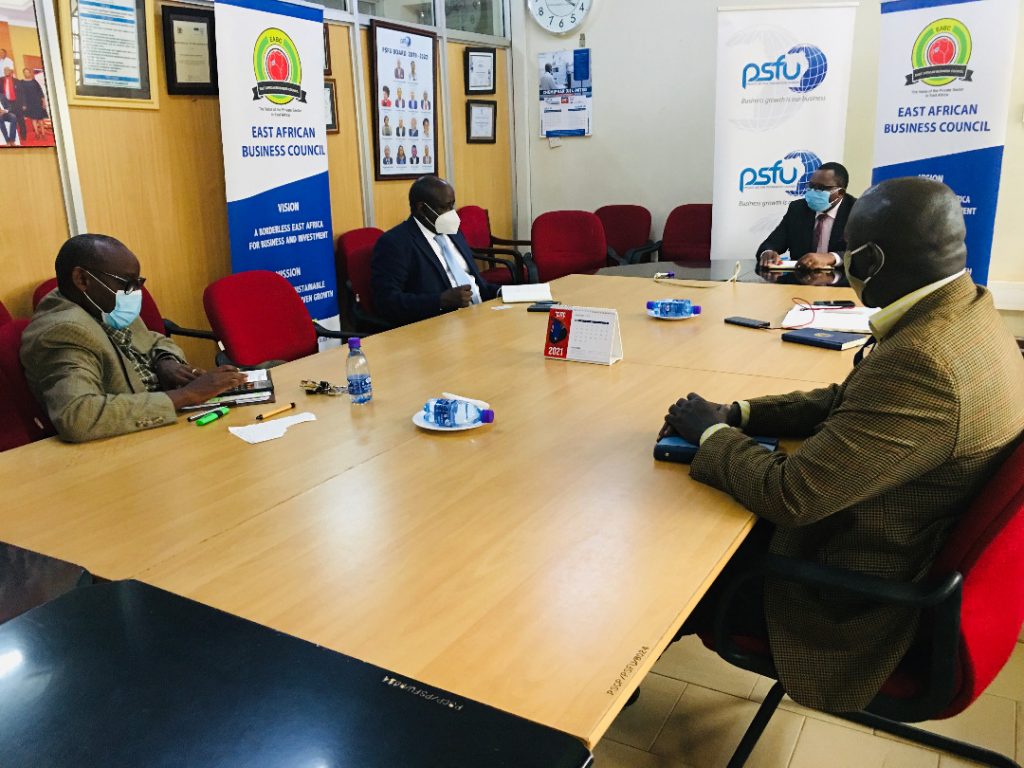 He further called for more and closer EABC-PSFU collaboration to actualize the Buy East African Build East Africa campaign to support the growth of Made in East Africa products.
On his part, PSFU Director, Policy Advocacy, Mr. Stephen Asiimwe called on EABC to take lead in raising awareness to the private sector and youth about the African Free Continental Area (AfCFTA) and business opportunities availed by the EAC regional integration process.
Other agreed areas of collaboration between PSFU & EABC include: co-organizing trade fairs, research and advocacy.
Also present at the meeting was Mr. Ronald Mulongo, PSFU Manager in charge of Membership and Mr. Emmanuel Lubega, EABC Uganda Membership Liaison Officer.
Issued by:
Mr. John Bosco Kalisa
Executive Director /Chief Executive Officer
East African Business Council (EABC)
9th Floor Mafao House | Old Moshi Road | Arusha | Tanzania
P. O. Box 2617 | Tel: +255 27 2520162
Email: admin@eabc-online.com I Website: eabc.info
EABC – The Voice of the Private Sector in East Africa
About East African Business Council: The East African Business Council (EABC) is the regional apex body of private sector associations and Corporates from the 6 East African countries. It was established in 1997 to foster the interests of the private sector in the integration process of the East African Community. EABC vision is a borderless East Africa for business and investment. The primary mission is to promote sustainable private sector driven in the EAC.