EABC CHAIRPERSON APPEALS TO RT. HON. REBECCA KADAGA, FIRST DEPUTY PRIME MINISTER AND MINISTER FOR EAC AFFAIRS OF UGANDA TO CHAMPION HARMONIZATION OF TAXES AND OPERATIONALIZE THE EAC TRADE REMEDIES COMMITTEE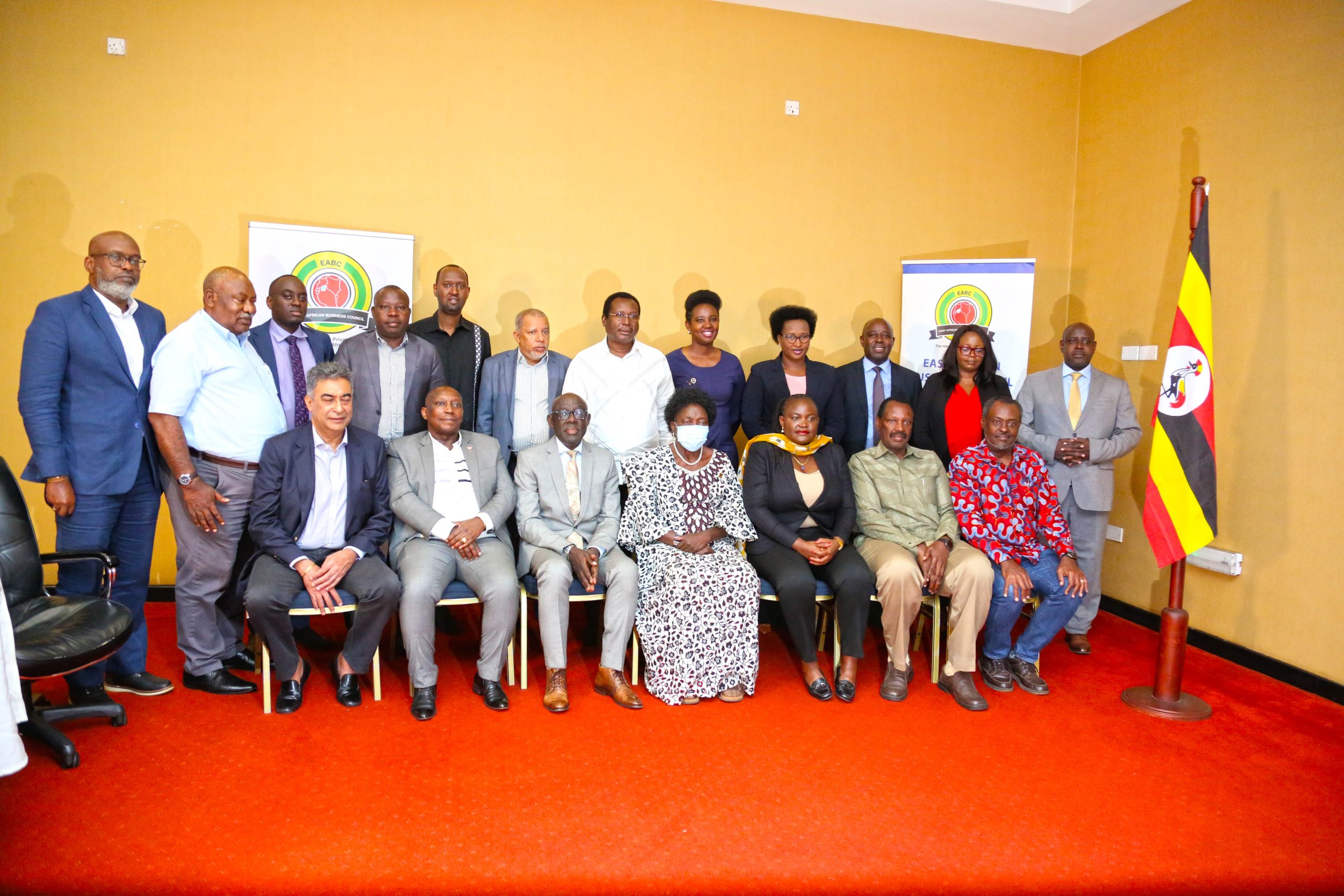 EABC Chairperson and Board Hold Discussions with Rt. Hon. Rebecca Kadaga, First Deputy Prime Minister and Minister for East African Community (EAC) Affairs of the Government of the Republic of Uganda
Friday, 3rd February 2023, Kampala, Uganda:- EABC Chairperson Angelina Ngalula appeals to Rt. Hon. Rebecca Kadaga, First Deputy Prime Minister and Minister for East African Community (EAC) Affairs of the Government of the Republic of Uganda as a member of the EAC Council of Ministers to champion the liberalization of air transport services, Activation of the EAC Remedies and disputes settlement mechanism, Harmonization of product standards, Harmonization of Domestic Taxes in EAC and Implementation of the African Continental Free Trade Area and EAC Small Medium Enterprise (SMEs) Charter.
This was during the EABC Round Table Engagement on the EAC Regional Integration Agenda where the Chief Guest, the First Deputy Prime Minister of the Republic of Uganda officially inaugurated the newly appointed EABC Goodwill Ambassadors from Uganda namely: Mr. Jim Mwine Kabeho, Dr. Merian Sebunya, Ms. Olive Kigongo and Mr. Charles Kareba.
In her address, Rt. Hon. Rebecca Kadaga called upon EABC to support women cross-border traders and SMEs to formalize their businesses and raise their awareness about trade procedures and opportunities in the EAC bloc.
She stated that founding members of the EAC should set the pace by implementing agreed upon commitments such as the One Network Area for telecommunication among others.
She elaborated that she is optimistic that the Republic of South Sudan will implement EAC protocols and commitments as rapporteurs of the Community, such as the ratification of the African Continental Free Trade Area agreement.
Rt. Hon. Kadaga reiterated her commitment to championing the elimination of non-tariff barriers and explained intra-trade will grow higher this year following Kenya's lift of import bans on eggs and milk from Uganda and the re-opening of Rwanda-Burundi borders among other progressive developments.
In his remarks, Mr. John Bosco Kalisa, CEO of EABC said intra-EAC trade had registered positive growth despite global shocks.
Mr. Kalisa commended the Rt. Hon. Rebecca Kadaga for her deep commitment to steer intra-EAC trade growth and for solving the Non-Tariff Barrier on rice imports from Tanzania into Uganda.
Rt. Hon. Kadaga also called upon the private sector to champion the political confederation and advocate for the abolition of trade barriers in order to create wealth and prosperity for citizens.
She pledged to inquire about the operationalization of the EAC trade remedies committee in the upcoming meeting of the EAC Council of Ministers.
EABC Chairperson Angelina appreciated the Government of the Republic of Uganda under the remarkable leadership of H.E. Yoweri Kaguta Museveni for steering higher the EAC and Continental integration agenda such as the bilateral trade opportunities Tanzania –Uganda oil project and re-opening up of borders.