EABC- TMEA Hold Public-Private Dialogue at Rusumo OSBP
Friday, 28th January 2022, Rusumo, Rwanda: The East African Business Council (EABC) CEO Mr. John Bosco Kalisa urges the United Republic of Tanzania to fast-track the use of national identity card as a travel document to ease the movement of cross border traders across the EAC region.
In his remarks at the EABC-TradeMark East Africa (TMEA) Public-Private Dialogue at Rusumo OSBP, Mr. Kalisa stated that Rusumo One-Stop Border Post connects Rwanda and Tanzania and is an important gateway to the Democratic Republic of Congo. He explained prior to COVID-19 Rusumo OSBP used to clears 400 trucks daily.
Tanzania's exports of goods to Rwanda hit USD. 269.6million while Rwanda's exports to Tanzania reached USD.5 million in 2019 (International Trade Centre).
Mr. Kalisa also urged Tanzania to adopt the EAC Single Tourist Visa to lure more tourists into the EAC bloc.
Ms. Happiness Ruangisa from Tanzania High Commission to Rwanda said that COVID-19 disrupted global supply chains hence the need to facilitate intra-EAC trade amid the pandemic for the resilience of our economies.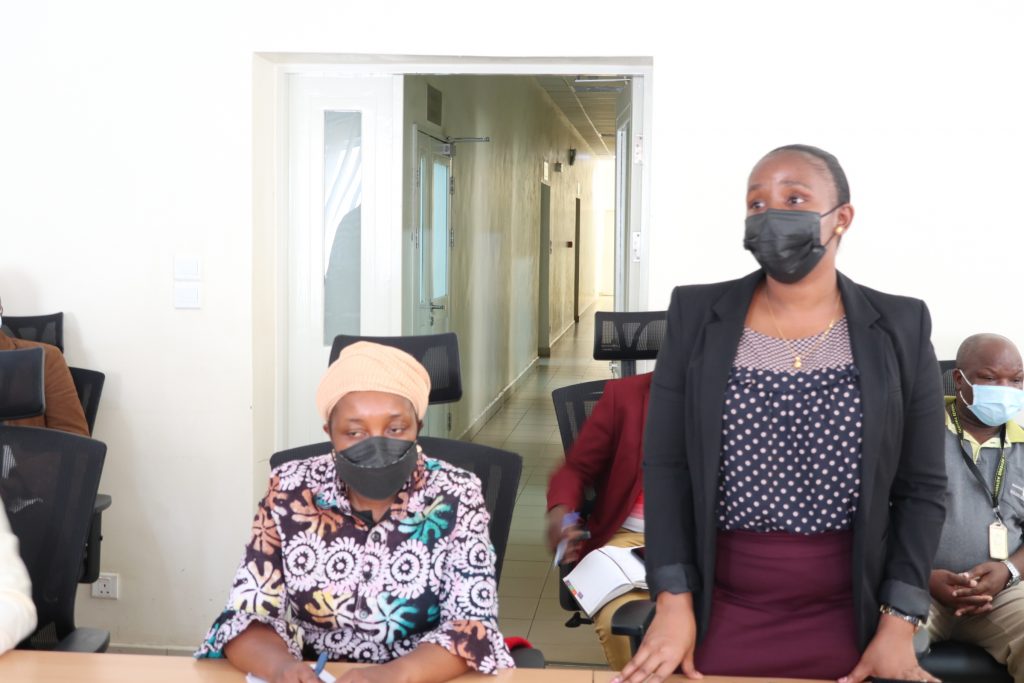 Mr. Charles Omusana, Principal Economist from the EAC Secretariat, said "improving trade facilitation is key to catalyzing the EAC Common Market and Customs Union."
Ms. Editha Paschal, Board Member of Tanzania Women Chambers of Commerce urged the Government to enable cross-border women to acquire equipment to reduce post-harvest losses, access affordable loans, roll-out sensitization on product standards and establish child-day care services near the border. She also appealed to the Nile Equatorial Lakes Subsidiary Action Program (NELSAP) to repair stores and shops on the Tanzania side which collapse.
Mr. Tayebwa James, CBT Policy Specialist from the Ministry of Trade & Industry Rwanda said that Tanzania and Rwanda signed MoUs on the promotion of cross-border trade and elimination of NTBs. He invited traders to take part in the upcoming joint border committee to discuss and formulate a concrete action plan on MoU.
Rusumo border is currently open for truck drivers and cargo-only and truck drivers have appealed to the Government of Rwanda to stop the mandatory COVD-19 rapid re-testing for drivers entering Rwanda via the border.
Ms. Eugenia Mwesiumo, from the Ministry of Foreign Affairs and East African Cooperation -United Republic of Tanzania reaffirmed the Ministry's commitment to boost bilateral trade ties.
The public-private dialogue also recommended for the plant health inspectorate services to be offered at the border of Rusumo to facilitate trade and abolition of the USD.100 Single Entry Business Visa into Tanzania for service providers from the EAC Partner States and EAC Partner States to grant a 6-month visa to East African travelers in line with the Common Market Protocol.
The EABC-TMEA public-private dialogue at Rusumo OSBP attracted over 40 delegates composed of Officials from the Ministry of EAC Foreign Affairs, Ministry of Trade & Industrialization, trade facilitation agencies, importers, exporters, transporters & freight forwarders and women cross-border traders.