INVITATION TO REGISTER INTO AFRICA CUSTOMER DUE DILIGENCE PLATFORM (MANSA REPOSITORY)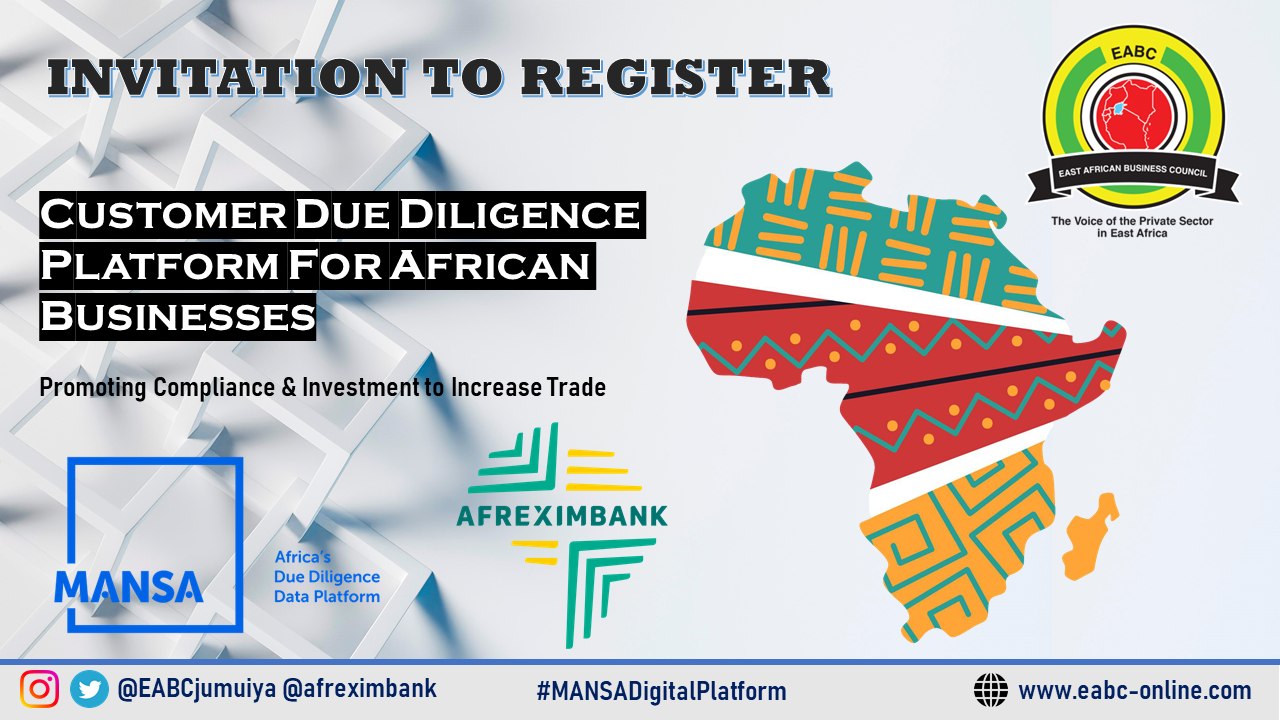 Esteemed Business Leader,

The East African Business Council (EABC) invites you to register into the Africa Customer Due Diligence Platform (MANSA Repository Platform). The platform links East African companies and Small Medium Enterprises (SMEs) to the African Continental Free Trade Area (AfCFTA) Market by providing access to due diligence information.

Why register?
The MANSA digital platform provides a single primary source of Know-Your-Customer (KYC) data required to conduct customer due-diligence checks on counterparties in Africa with a special focus on African Corporates, SMEs, and financial institutions.

Benefits
1. Access new markets for your company products and services.
2. Market your company products to the wider African market  free of charge.
3. Access up to date and relevant information about African corporates and SMEs in the continent.
4. One-stop information on center potential markets and business 2 business matchmaking.
5. Access to a wide number of suppliers across Africa.
6. Get in touch with Investors for both equity and investment purposes by  showcasing your company profile.
7. MANSA as an Afreximbank's platform enables Financial Institutions to easily access Afreximbank's products.

Registration is free of charge.
Depending on the size of your company, Kindly fill the attached the respective Contributor Information form for Corporate  or SMEs (see download link below) and send it via Email: zshaidi@eabc-online.com, Cell: +255 714 066711, with a copy to communications@eabc-online.com. Information provided will be kept confidential.

Contact us for any further information/clarification.   We look forward to receiving your duly filled forms and onboarding you to the MANSA platform.
DOWNLOAD REGISTRATION FORM:
I. CORPORATE
II. SMEs
ABOUT MANSA PLATFORM